What is LED?
LED is English Light Emitting Diode, that is, light-emitting diode, is a kind of semiconductor solid light-emitting device, it uses solid semiconductor chip as the light-emitting material, when the forward voltage is applied to both ends, the carriers in the semiconductor recombine and cause photon emission. Generate light. LED can directly emit red, yellow, blue, green, cyan, orange, purple, and white light. The first commercial diode was produced in 1960. Its basic structure is a piece of electroluminescent semiconductor material, placed in It is placed on a shelf with leads, and then sealed with epoxy resin around it to protect the internal core wire, so the seismic performance of the LED is good.
Why is LED the fourth generation light source (green lighting)?
According to the light-emitting mechanism of electric light sources: the first generation of light sources: resistance luminescence such as incandescent lamps. The second generation of light sources: arc and gas luminescence such as sodium lamps. The third generation of light sources: phosphors such as fluorescent lamps. The fourth generation of light sources: solid-state chip light. Such as LED.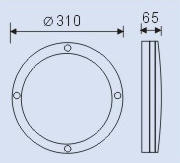 What are the light emitting mechanism and working principle of LED?
The light-emitting diode is made of III-IV compounds, such as GaAs (gallium arsenide), GaP (gallium phosphide), GaAsP (gallium arsenide) and other semiconductors, and its core is a PN junction. So it has a general PN junction The IN characteristics, namely forward conduction, reverse cutoff, and breakdown characteristics. In addition, under certain conditions, it also has light-emitting characteristics. Under forward voltage, electrons are injected from the N region into the P region, and holes are injected from the P region N area. Part of the minority carriers (minority carriers) entering the opponent's area recombine with the majority carriers (multiple carriers) to emit light.